Parts Counter and Dealerships
At Precision, we carry engine components and automotive parts for over-the-counter sales. We are suppliers of gaskets/seals, core plugs, cylinder head bolts, pre-combustion chamber inserts, pistons, piston ring sets, shell bearings, oil pumps, timing belts/kits, valve trains, camshaft followers, camshaft kits, new cylinder heads, EGR valves, air mass sensors, etc.
Even if we don't hold it, we are able to source it for you, usually for next day delivery. If there is something in particular you are needing, please 'phone us on 01463 235537.
Click here for information on older diesel pump models and applications that we hold.
Precision are also one of only two main dealers in Scotland for Bukh engines; as well as dealers for Perkins Marine. We can advise on your marine application, whether you are looking to replace your engine, overhaul your engine or simply source replacement parts.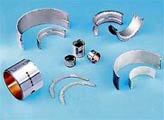 Back to top

^