Precision Propshaft Services

With our extensive experience with Propshafts, our vast technical knowledge and facilities enable us to design Propshafts and complete Propshaft Drivelines to exacting customer requirements.
We stock an extensive range of new Propshafts (for example VW Tiguan, Merc Sprinter) and can competitively manufacture one off Propshafts to customers requirements in our modern dedicated manufacturing facility.
We stock a large range of ready to go service exchange propshafts for commercial vehicle applications helping keep down time to the minimum and get vehicles back on the road in the shortest possible time.
Our dedicated Propshaft Repair Shop service includes:
Job completion and delivery in the shortest possible time (usually same day), minimising down time;
Complete quality satisfaction and competitive pricing; and
Propshaft Modification - modifying existing Propshafts to meet revised and new driveline requirements.
We offer the most comprehensive stock of propshaft parts available. This includes:
•Complete propshafts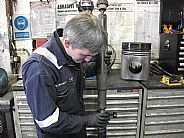 •Universal joints
•Centre bearings
•Bespoke components
•Flanges
•Splines

•Yokes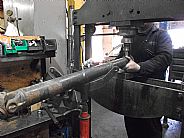 •Tubes
•Brackets
•Bushes
•Fittings
We can also manufacture unobtainable Propshafts components in our dedicated Propshaft Machine Shop.
Please contact us with your requirements.
Back to top

^